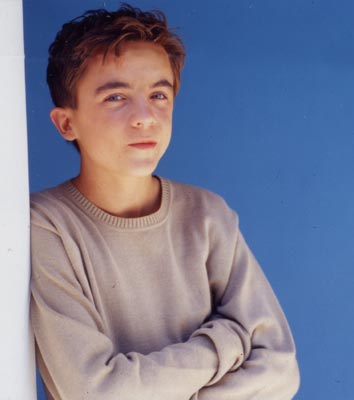 Malcolm - Frankie Muniz
Full Name: Francisco James Muniz IV (as stated on birth certificate)
Born: 5th December 1985, Woodridge, New Jersey USA (Some sites say Ridgewood, but Frankie said Woodridge when he was on the Jay Leno Show).
Hometown: Woodridge, New Jersey.
Family: Mum (Denise), Dad (Frank), older sister (Christina)
Pets: Cat named Pumpkin, and a dog named Cadillac.
Background: 1/4 Italian, 1/4 Irish, 1/2 Puerto Rican
Schooling: Frankie is home-schooled by his mum.
Hobbies: Golf, basketball (Frankie loves the L.A Clippers), skateboarding, baseball
Favourite T.V show: Shasta McNasty, CHiPs
Favourite Movie: Anna and the King, CHiPs '99
Favourite food: Hamburgers
Favourite kind of music: Anything but rap
Favourite subject: Geography
Favourite Actors: Val Kilmer and Leonardo DiCaprio.
Movies/T.V shows Frankie has been on:
Films Big Fat Liar (2002) Dr Dolittle 2 (2001, voice) Deuces Wild (2001)
My Dog Skip (2000)
Lost & Found (1999)
It Had To Be You (1998)

T.V Movies Miracle in Lane 2 (2000)
What the Deaf Man Heard (1997)
To Dance with Olivia (1997)


TV Series
Malcolm in the Middle (2000) Fairly Odd Parents (2001, voice of Chester)

TV Guest Appearances The Andy Dick Show (2001) The Simpsons (2001, voice) The Priory (1999)
Spin City (twice) (1996)
Sabrina The Teenage Witch (1996)
Silk Stalkings
Another World
Other Things:
* Frankie plays the drums.
* Frankie's parents are separated, he lives with his mum.
* Loves the Blue Man Group.
Created by Michelle!
Home | Photos | Cast Bio's | Links | Quotes